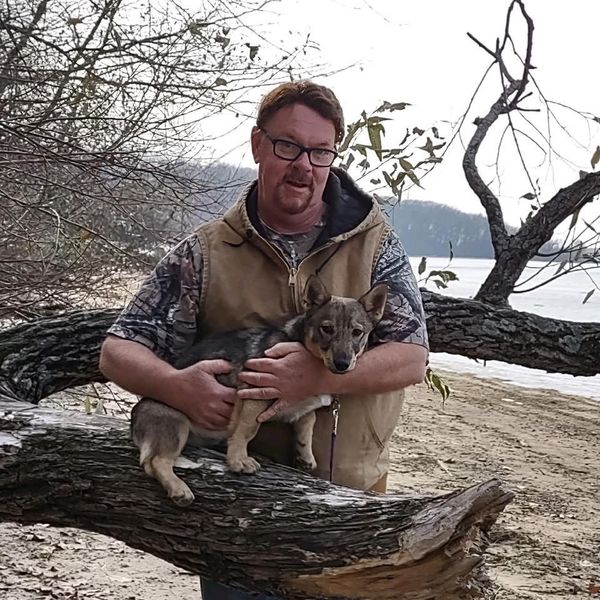 Daniel C. Campeau
Au Reult Swissys and Valhunds Formerly known as Suddanly
Introduction
The only boy among four children, Daniel C. Campeau was born in 1958 in Detroit, Michigan.  Dan's father and mother served during the Korean Conflict in the United States Marine Corp.
Dan's formal education includes a Bachelor of Science degree with a dual major in Poultry Science / Animal Husbandry from Michigan State University.  In the early '80s, he attended MSU's Veterinary School for two years.  In 2001, he earned a Masters of Science degree in Agriculture and Extension Education from North Carolina State University.  Dan's course of study naturally included numerous courses in Biology, Animal Nutrition, Reproductive Physiology, Animal Genetics and Animal Husbandry for Domestic Farm Animals.
Greater Swiss Mountain Dogs
Dan's dog experiences started at age 14 when he began obedience training his first Collie.  Since that time he has shown a Rottweiler, a Great Dane, Collies, Schipperkes, German Shepherds, Giant Schnauzers and Corgis in obedience.  Additionally, he showed the Collies and Giant Schnauzers in Conformation, Agility, and Obedience.
In 1987 he started researching other breeds, looking for a working dog that was tougher than a Collie, friendly towards people, and relatively low maintenance.   While he considered the Rottweiler, Dan chose the Greater Swiss Mountain Dog as his breed.  A close cousin to the Rottie, people were not afraid of Greater Swiss Mountain Dogs, in part because they are not quite as "guardy."
Dan's kennel name started out as Sudbach, but by 1993 was switched to Suddanly Swissys.  Since 1990, Suddanly Swissys have excelled in Conformation, Agility, Herding,
Obedience, Weight pulling and as Therapy dogs. Dan considers Cathy Cooper of Shadetree Kennels, Cheri Barton of Barton Manor Kennels,  and Polly Spiering of Pollyanna kennels to be his original  mentors in this breed.  Thank you to all.
As a breeder, Dan is working on his fitfteenth generation of Swissys.  Dan has successful experiences with fresh collected and chilled semen Artificial Inseminations as well as natural breedings.  Having experienced trouble with conventional c-section techniques, Dan has worked with other breeders and his veterinarians on  a successful alternative.  Always looking for ways to improve his breeding experiences, he has used Whelpwise technologies in the past with great success. 
Dan believes in minimal vaccine protocol for puppies and adults as well as in supplementing conventional kibble based diets several times a week with raw chicken, kelp, multivitamins, slightly cooked veggies, cottage cheese, raw eggs with shells, and yogurt.
Dan has been lucky enough to produce , own or coown top ten dogs consistently since 1990,  Please see Home page for a list of accomplishments that his dogs and their very special owners have accomplished.    Dan's priorities are breeding Greater Swiss Mountain Dogs using American and Import bloodlines that adhere to the breed standard with a stable, sound temperament, that are also healthy and long lived.  Suddanly Swissys can be found in the US, Canada, South America, and Europe.  Dan offers 7 year health guarantees against crippling and blinding issues. 
Since 1990, Dan has been involved with the Greater Swiss Mountain Dog Club of America as the Chair of Years committee.  This committee produces the "Years of the Swissy" which documented the history and progress of the Greater Swiss Mountain Dog in the United States from 1968-1998.  Additionally, Dan served on the Versatility Committee, Health Committee and Breeder Guideline Committee.  Dan is a founding member and officer of both the American Greater Swiss Breeders Association and the Blue Ridge Greater Swiss Mountain Dog Regional Club.  He is an associate member of the Chesapeake and Potomac Greater Swiss Mtn. Dog Club.

Dan got his first Swedish Valhund in 2007 and is a member of the SE Swedish Valhund Club and the Mid Atlantic SV Club.  Sunny is our first Valhund and is now a Champion.  Special thanks go to Rebekah and Robert James for the opportunity to own such a great example of this breed.  A Big thank you goes to my four mentors in this breed, Cheryl Rolfe,  Rebekah James,  Debbie Tapp, and last but not least Sharon Pokorski.   

In 2015 Dan changed his kennel name to Au Ruelt ( gaelic for "Gold Star") .   So if you see Au Ruelt prefix and/or an SD in the registered name you will know it is of my breeding.  
Personal Message From Dan:
"One of the things I have found through the years is that anytime you donate your time and efforts to the Greater Swiss Mountain Dog or Swedish Vallhund breed, either as a volunteer or mentor, you get back 10 times what you put in.  I have been fortunate to make lasting friendships and acquaintances in this breed and look forward to many more successful years of service."